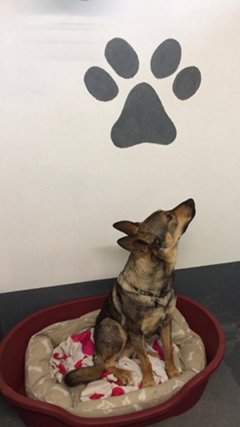 Lynncrest Boarding Kennels ~ Accommodation
Main building
Lynncrest Boarding Kennels are located in a pleasant rural setting near Antrim town.
The self-contained accommodation - a former farm building - was completely refurbished in 2013 with purpose-built facilities including a reception area, office, kitchen and the individual kennel spaces.
Kennels
Unless sharing in a family group, each dog has its own spacious kennel measuring 4 x 1.50 metres.
The kennels are individually heated with a constant supply of fresh water.
A raised bed with blanket ensures a comfortable rest and sleeping area.
Outdoor walks
Being located on a farm in a rural setting means there is also plenty of scope for healthy walks in the countryside.
Viewings
Prospective clients are welcome to view the boarding kennels by appointment. Please call us to arrange a suitable day and time.